Everyone needs a good coffee drink during the holiday season. Between staying up late to wrap presents and then being up early to unwrap presents, start Christmas dinner, and prepare for the various visits with friends and family during Christmas Day, a good Christmas coffee drink towards the evening will keep you going just as you feel like you're ready to call it in for the night. When it comes to Christmas coffee drinks, there is just one thing that you need to have to make your perfect coffee cocktail and that is, obviously, coffee. This Christmas coffee cocktail takes it to the next level with a mixture of different holiday flavors that will make this Christmas espresso martini on that you'll want to make even past Christmas Day.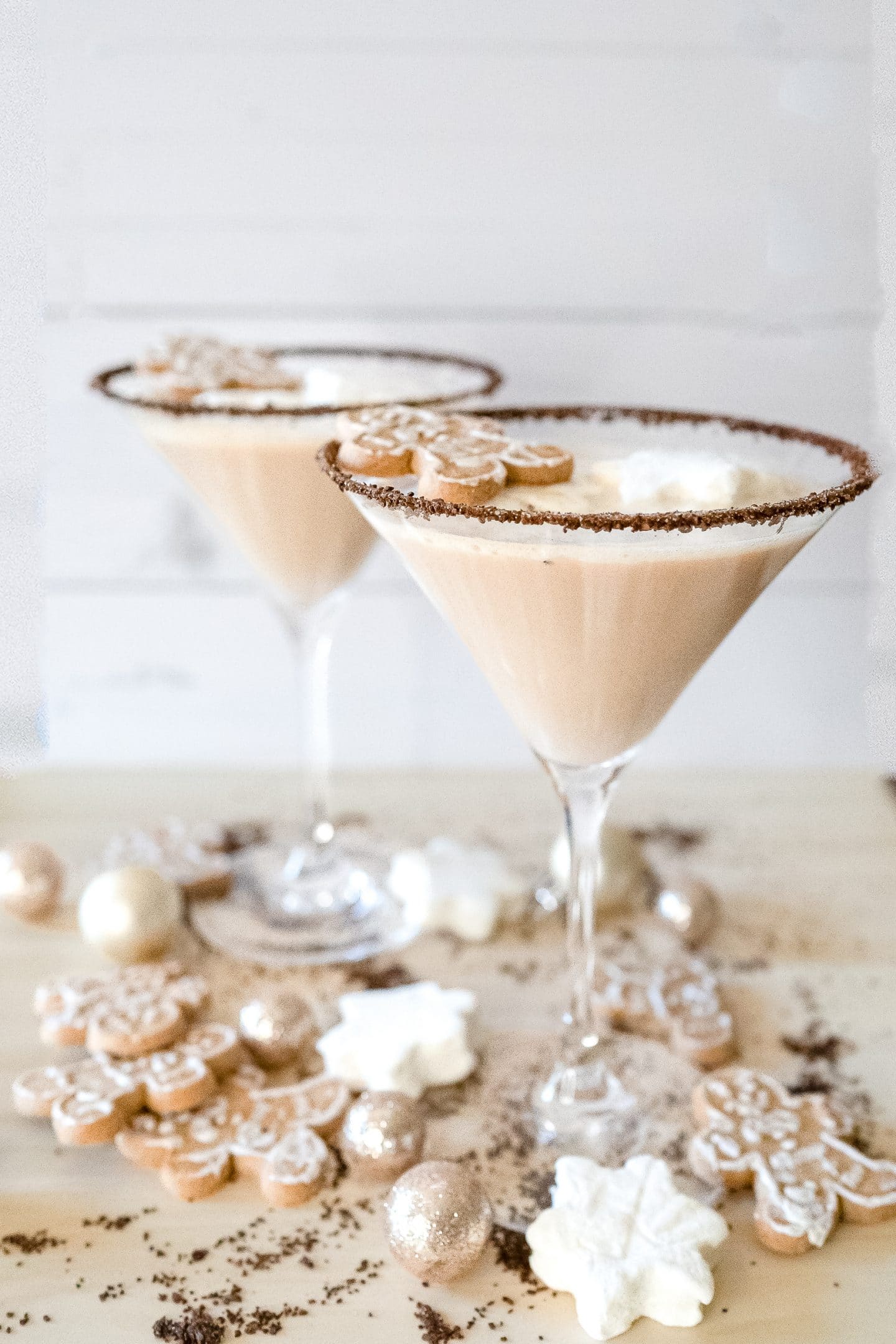 CHRISTMAS COFFEE DRINKS: THE GINGERBREAD ESPRESSO MARTINI
When it comes to holiday coffee drinks there are quite a few options that you have during the holiday season. Since many of us are coming right out of the season where we may have been drinking a pumpkin spice latte at least once a week, we are looking for a great holiday coffee drink that will touch our senses. Over the years, I've tasted a number of different cocktails such as the peppermint marshmallow latte and a classic Irish coffee, but I have always want to put a Christmas coffee drink in my aresnal for the holiday season.
This specific Christmas coffee drink – the Gingerbread Espresso Martini – is one that has just hit the LivingLesh cocktail list for the holidays and has immediately become a hit. It has been dubbed the official after dinner cocktail or dessert cocktail, but it's also on the menu for Christmas breakfast in the case that someone wants to kick off their morning with a little sip of spirits to get the festive spirit going right away. This Christmas coffee recipe is simple to make and you can find almost all of the ingredients in your local store with the exception that if you don't find the gingerbread syrup locally in store, and you don't order it in time, you may have to end up making it from scratch.
What's in CHRISTMAS COFFEE DRINKS?
Christmas coffee drinks are made up of a few essential ingredients. Starting with brewed coffee or espresso, you'll also want to make sure that you have a cream ingredient. Many people will go with an Irish cream such as Bailey's Irish cream, but you can also substitute it out with whole milk (or almond milk) or real cream. For the coffee, depending on what type of cocktail you are making, you can try out different flavors such as ginger praline coffee, a cream cold brew, keto cinnamon toast coffee, or a peppermint mocha. Whichever you choose, just make sure that you are matching all of your flavors together to make a complimentary holiday coffee cocktail.
You'll also want to make sure that you have a type of syrup if you are looking to add a little sweetness to your martini. Many people will just go with a little bit of simple syrup to add a little sweetness, but if you are creating a specific flavor of an espresso martini, you may end up going with a syrup that is specific to the cocktail. For example, with this gingerbread espresso martini, gingerbread syrup is used to bring out the gingerbread flavor while also adding a little bit of sweetness. Alternatively, you can leave out syrup if you are wanting a more bitter coffee flavor to your espresso martini, but it's not something that goes well with my family, so I typically stick with including a syrup in our coffee drinks.
What Other Types of CHRISTMAS COFFEE DRINKS Are There?
There are quite a few different types of Christmas coffee drinks out there that are favorites with my friends and family similar to how this Christmas espresso martini is a favorite. Though, I will definitely suggest to try this cocktail out using the recipe below, I want to give you a little list of other great Christmas coffee drinks that you can serve during the holiday season.
BOOZY CHRISTMAS COFFEE

This is a great easy Christmas coffee drink that you can make and serve during the holiday season. It's simply getting your coffee in a cup and adding a spirit such as a bourbon, whiskey, vodka, or rum. Some people just head to their local Starbucks to get their favorite coffee and add the booze and then they have their boozy Christmas coffee.

CLASSIC IRISH COFFEE

Irish coffee is probably one of the top Christmas coffee drinks that I see on the menus at various restaurants during the holiday season. It's a simple mixture of coffee, maple syrup, and Irish whiskey. Some people also add whipped cream on top and let it melt in, but it's not a huge necessity.

PEPPERMINT MARSHMALLOW LATTE

This cream based holiday cocktail is one that is great for those peppermint latte lovers. With a mixture of peppermint extract, coffee, and cream, you'll have a tasty holiday latte that is also a simple holiday coffee drink recipe.

SPICED MOCHA LATTE

The spiced mocha latte is one that you can serve hot or iced and tastes great either way. The creamy spice latte is a comfort holiday cocktail that those will love as a morning starter or an evening pick me up.

SALTED CARAMEL LATTE

One of the best types of salted caramel lattes that I have tasted during the holiday season is a salted caramel brulee latte that someone made a few holiday seasons ago. For this cocktail, you'll need caramel sauce, espresso, milk, sugar, vanilla, and salt which will garnish the top of the latte so that as you sip you get a salty cream as you dive into this holiday coffee drink.

APPLE CIDER LATTE

If you're looking for a little extra sweetness, you may also want to try the apple cider latte. This Christmas coffee drink brings in the warm and cozy flavor of apple and mixes the comfort of coffee together to create a festive coffee drink that everyone will love.

GINGERBREAD SPICED MOCHA

If you make the cocktail in this post and still have gingerbread syrup left, try your hand at making the gingerbread spiced mocha. With a mixture of the syrup, coffee, milk and some other spices such as cinnamon, you'll have a warm comforting drink for the late evenings watching the kids play with their new toys.
Making the GINGERBREAD ESPRESSO MARTINI
I had so much fun making this drink and you will too. The cocktail itself is very simple to make and the hardest element is making the little gingerbread man cookie stay sitting on top, but he's optional, so it's not like you have to spend a bunch of time making him sit there.
RIMMING THE GLASS
For rimming the glass to make your gingerbread espresso martini, you'll want to get two plates. In the first plate, put a little molasses or maple syrup and in the other plate put coffee grounds and cinnamon sugar. I decided to go with gingerbread coffee coffee grounds for the rim to bring more of the gingerbread flavor out especially since you'll smell the gingerbread coffee from the rim while also tasting more gingerbread flavor as you take each sip. By having the coffee grounds on the rim, you're also adding more coffee flavor to the espresso martini since it's mixing with the liquid each sip. If you're not someone that wants to add coffee grounds to the rim, adding just the cinnamon sugar is also great. I also made this espresso martinis with other types of rims including one with shredded chocolate and one with brown sugar and gingerbread cookie grounds.
GARNISHING THE MARTINI
Once you have poured your cocktail mixture into your rimmed glass, you'll be looking to garnish it with a few little festive elements. For this cocktail, you'll want whipped cream, marshmallows, and gingerbread cookies. The whipped cream is used to place a little cream in the cocktail while also providing a base to balance the marshmallow and cookie on for presentation. I recommend doing a small circular spray of whipped cream in the center of the cocktail and then placing the marshmallows on top to cover the whipped cream and make a presentable top. Then take your gingerbread cookie and place it halfway on the whipped cream and marshmallow float and halfway on the edge of the glass so that it doesn't fall right in the cocktail upon presentation.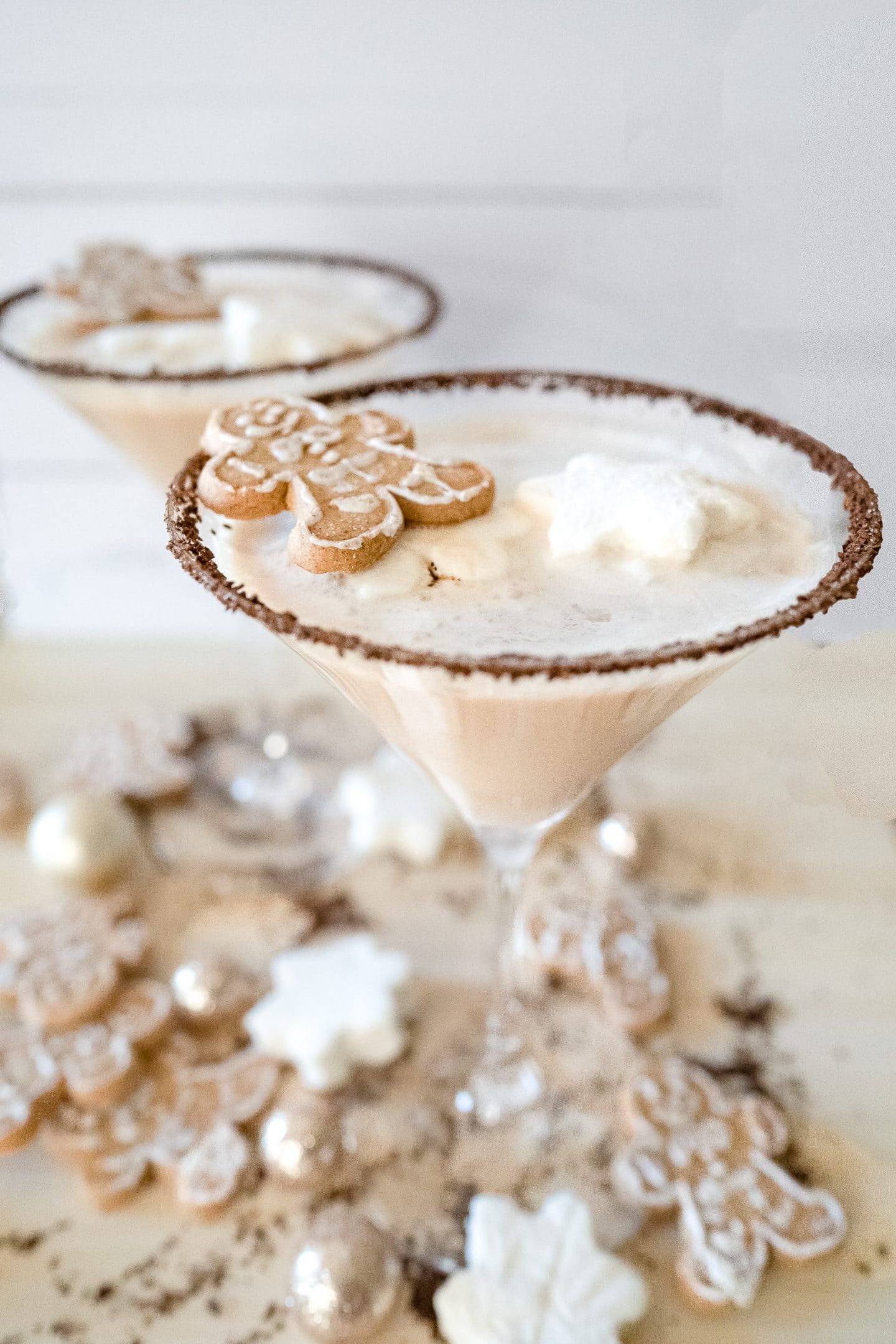 Print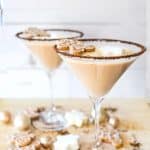 Gingerbread Christmas Espresso Martini
---

Author:

Total Time:

3 minutes
For cocktail:
1 1/2 oz

of vodka

1/2 oz

of coffee liquor

1/2 oz

of Irish cream

1 oz

of gingerbread syrup

1 1/2 oz

of coffee

1 oz

of whole milk
To garnish:
whipped cream
marshmallow
gingerbread cookies
For rim:
gingerbread coffee grounds
cinnamon sugar
maple syrup
---
Instructions
In a cocktail shaker, combine vodka, coffee liquor, Irish cream, gingerbread syrup, coffee, and milk.
Add ice and shake.
Strain mixture into a martini glass.
Garnish and serve.
Notes
For the rim:
Combine coffee grounds and cinnamon sugar together in a plate and put maple syrup in a seperate plate.
Dip glass rim in maple syrup and shake off access, then dip rim in coffee grounds and cinnamon sugar mixture.
Sit aside to set.
For garnish:
Add small circle of whipped cream in center of cocktail.
Lay gingerbread man and marshmallows light on tip. Lean the gingerbread man on glass rim for more support.
Cook Time:

3 minutes

Category:

Cocktail
Keywords: martini, espresso, Christmas cocktail, holiday drink, gingerbread
MORE HOLIDAY COCKTAIL RECIPES TO MAKE:
White Christmas Margarita
Toasted Apple Cider Bourbon Smash
Cranberry Moscato