To the common eye, the T-shirt is the most humble of all garments. But, this isn't necessarily true. As Leonardo Da Vinci famously said: simplicity is the ultimate sophistication. This couldn't be more true when it comes to the best designer t-shirts for men.
When it comes to something as simple as designer white t-shirts, or graphic tees, quality and detail are of the utmost importance. There's no distraction. No fluff. Just a striking focus on the quality of fabric and design. But, is there room for high-quality designer t-shirts that aren't minimal? Of course! Say you're in the mood to flaunt your style prowess, or deep financial pockets: the fashion world has you covered. Below, are the 15 best designer t-shirts for men that are worth every penny. Run don't walk!
Minimal Designer T-Shirts
First up, plain designer t-shirts, which feature a single solid color. This selection of designer t-shirts is for those who believe luxury is more of a whisper than it is a shout. They aren't flashy, but as they say: those who know, know.
1. Loro Piana Slim Fit Silk and Cotton Blend T-shirt
BEST OVERALL 
Loro Piana as a brand is the epitome of quiet luxury. It is a brand for those who are used to immense wealth and don't have an urge to flaunt it so much because the focus is on quality, not reassurance from others. Such is the case with their slim-fit silk and cotton blend t-shirt. Will it get you attention on the street? Probably not. But, that's not the point. The point is comfort, precision, and fit. Three qualities that this shirt effortlessly boasts.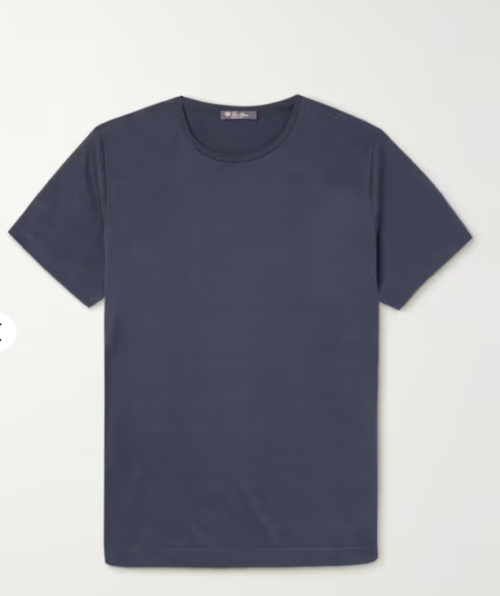 2. Ami Paris Logo Embroidered T-Shirt
BEST RELAXED FIT 
The whole point of a t-shirt is comfort, so why not expand on this with a loose-fit t-shirt? In a soft beige colorway, Ami's signature "Ami de Coeur" logo blends beautifully with the rest of the garment while adding subtle texture to the shirt.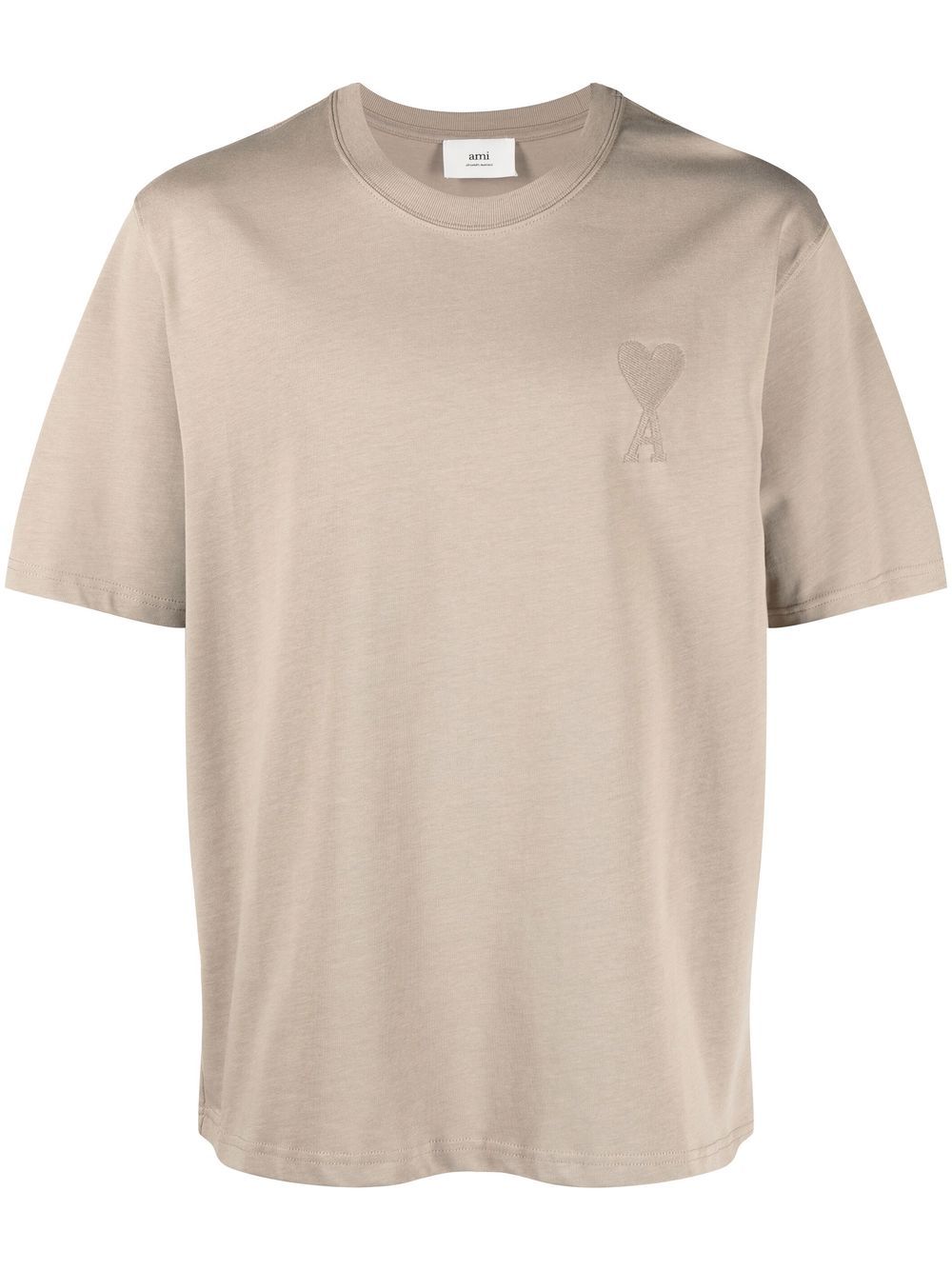 3. Tom Ford Stretch Cotton and Modal Blend
BEST FOR EVERYDAY 
Tom Ford is a pillar of elegance and glamour and it surely is exemplified in this plain white T. Is it worth the money to spend a bit more for a white t-shirt? When it's crafted out of ultra-soft cotton and jersey blend, the answer is always yes.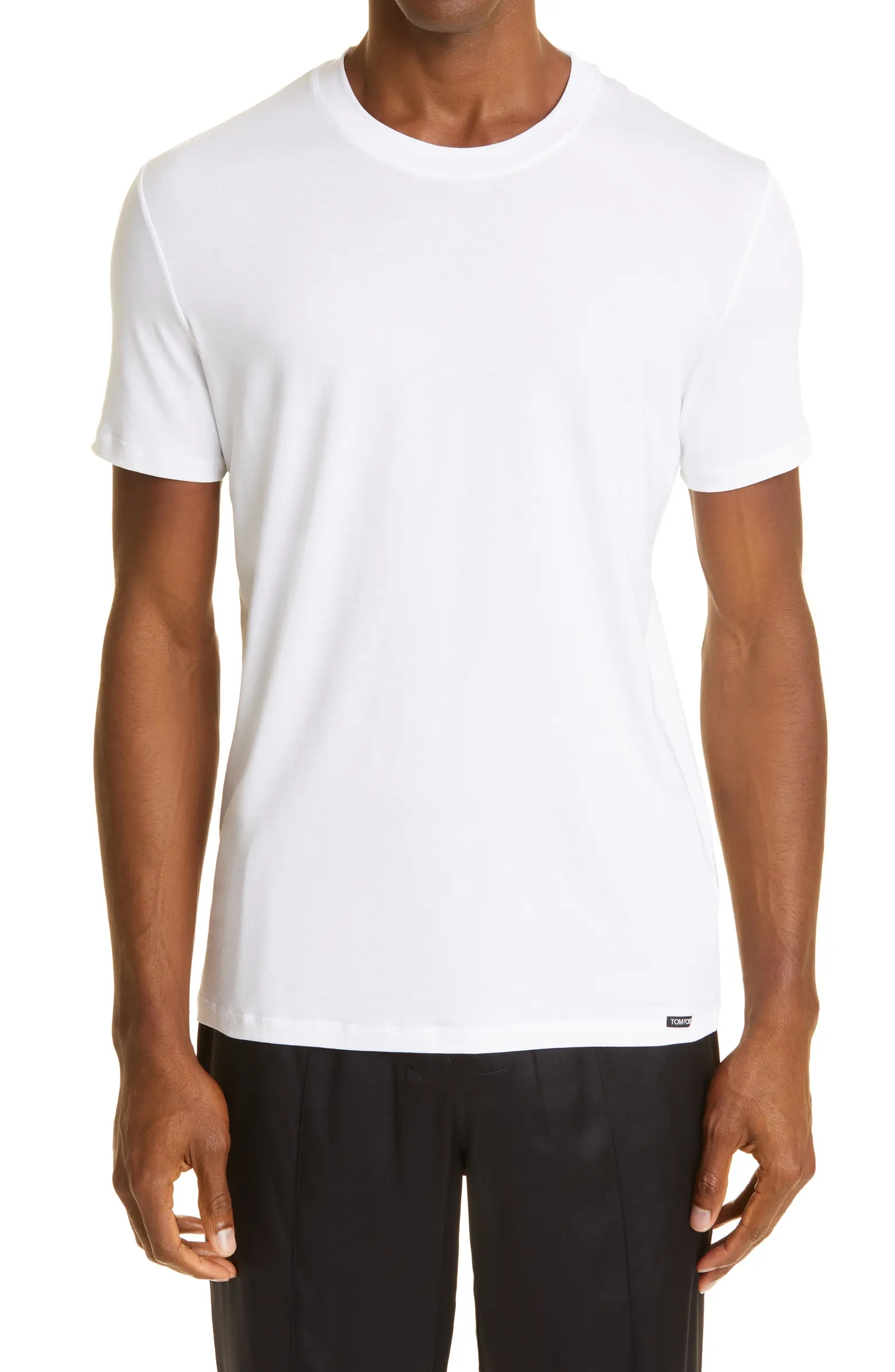 4. Rag and Bone Principal Jersey T
BEST FOR GOING OUT 
If you need a shirt that is an emblem of cool, look no further: Rag and Bone of course has you covered. Looking downtown chic is their signature and their bread and butter. Not only is it insanely light, but comes with a pocket for all of your essentials. Style with dark denim and Chelsea boots.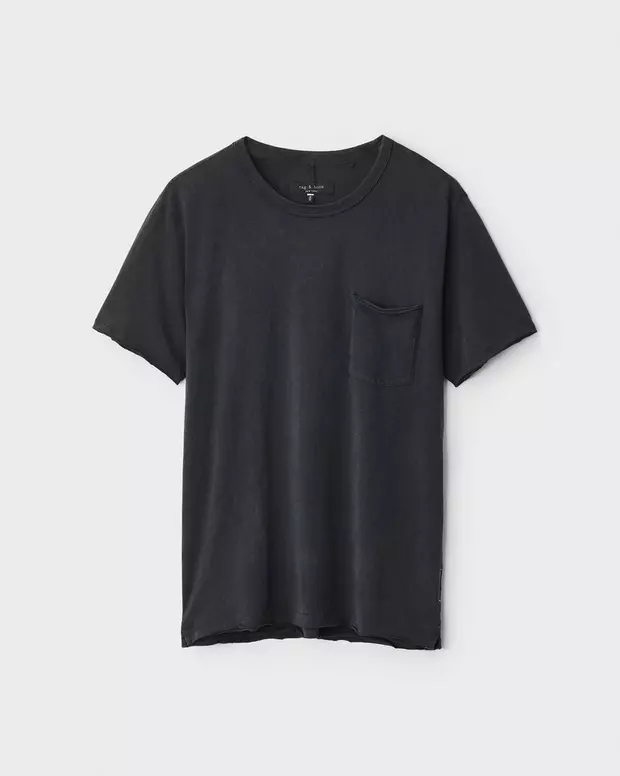 5. Homme Plisse Miyake Crew Neck Plisse Shirt
MOST FASHIONABLE 
The late Issey Miyake is a mastermind at creating dimensions and texture in his clothing. Such is the case for this crew neck shirt which is anything but simple in appearance. This shirt is made in Miyake's signature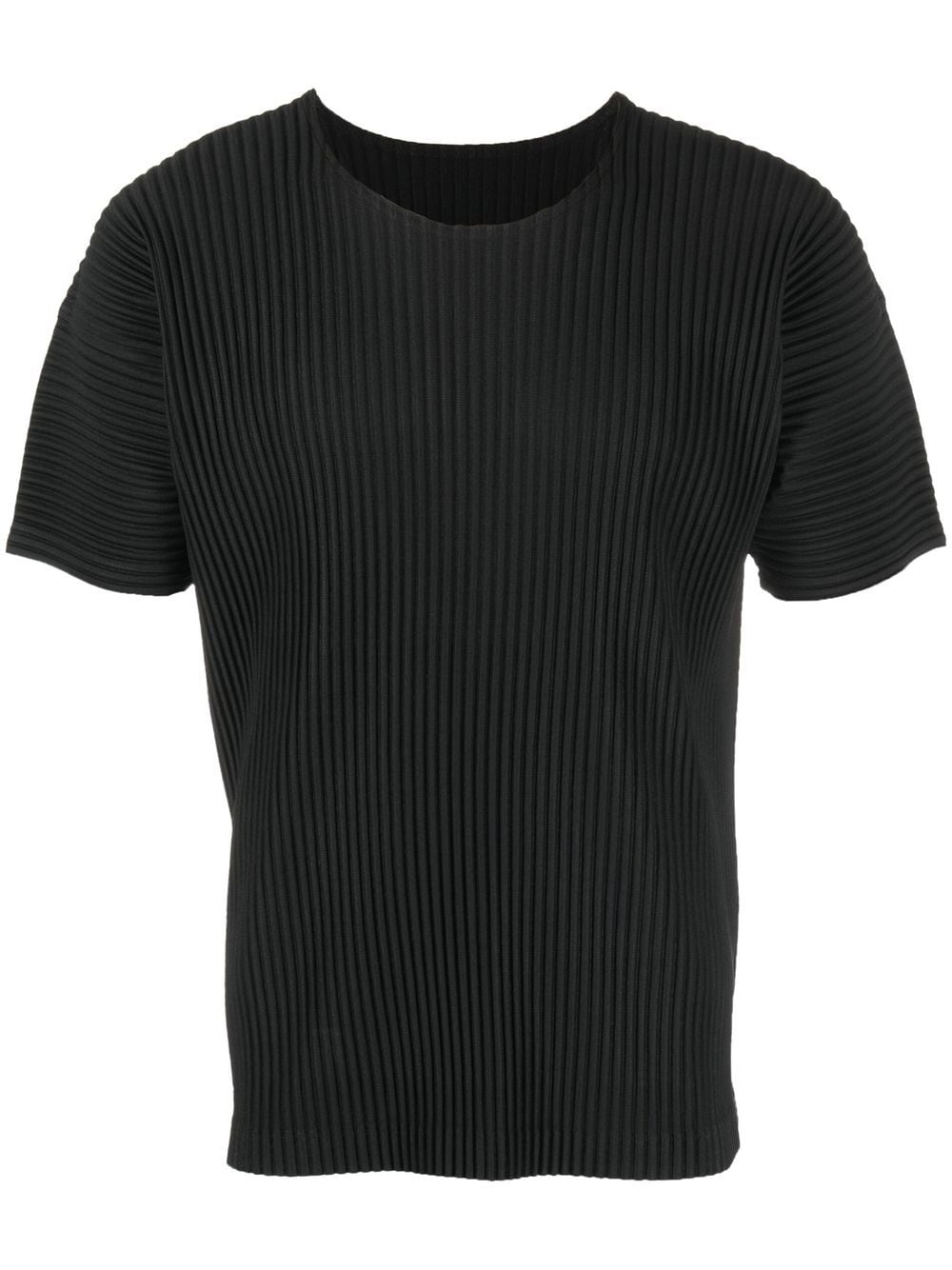 Logomania – The Best Graphic Designer T-Shirts
Logomania designer t-shirts for men are meant for those who aren't afraid to show off a bit. And, that's not a bad thing! If you're going to drop a few extra bucks, why not show it off?
6. Balenciaga 90% Balenciaga 10% Myself T-Shirt
Balenciaga has a lot of fun over-sized t-shirts for men, like this colorful, almost Lisa Frank-esque black t-shirt. We're seeing the return of graphic t-shirts and logo t-shirts in 2022, and Balenciaga isn't the type of designer to get left behind.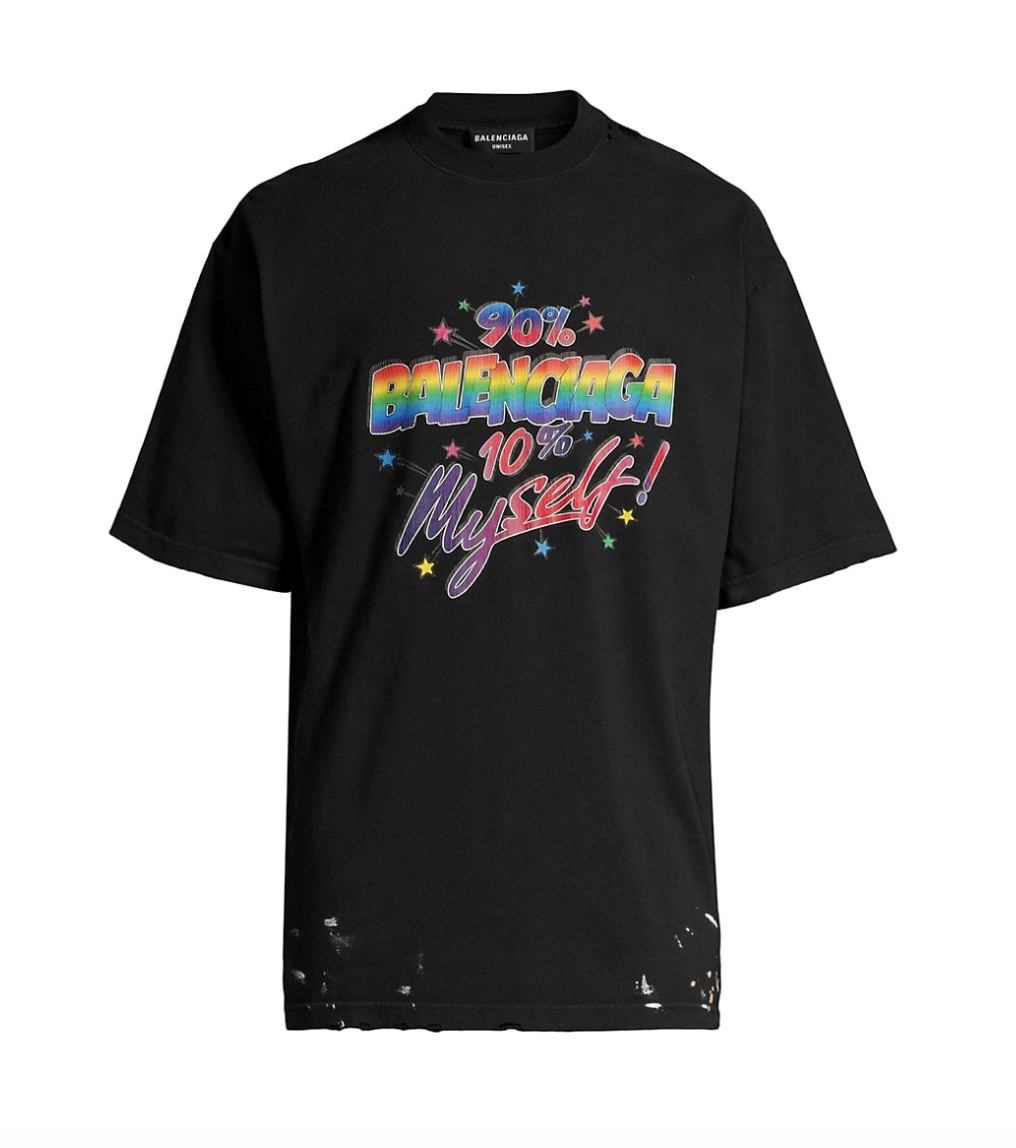 7. Saturdays New York City T-Shirts
MOST AFFORDABLE
Have you noticed that a lot of brands are using nature-motifs in their menswear lately? We featured these t-shirts from Saturdays New York City in a recent trend piece, and they're some of the best designer t-shirts for sale in 2022. Plus, they don't cost $500, which is nice.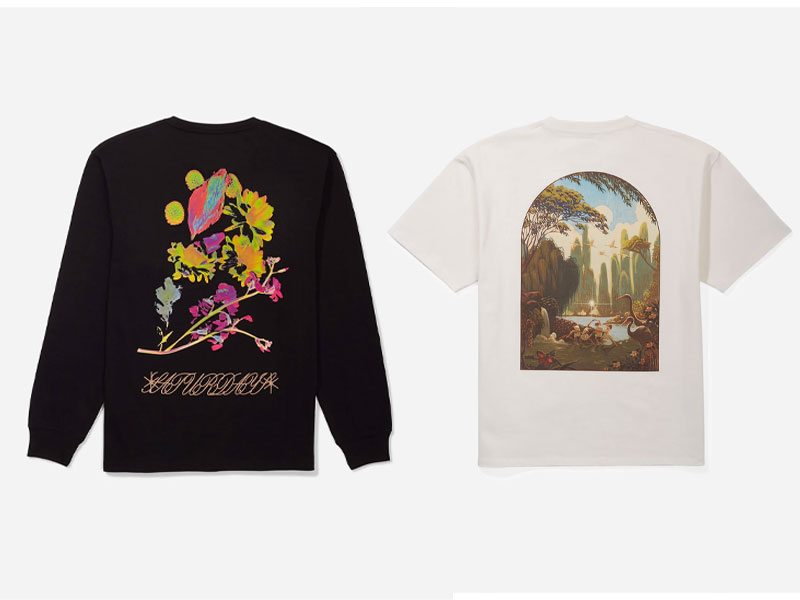 8.
Givenchy Slim Fit Logo T-Shirt 
MOST MINIMAL
Can you have a minimal logomania shirt? This Givenchy slim-fit t-shirt puts in a good case for it. The shirt is, well, recognizable. But there's not much of a distraction otherwise. Which is a good thing. Extremely versatile for both the day and evening, this shirt truly goes with almost everything.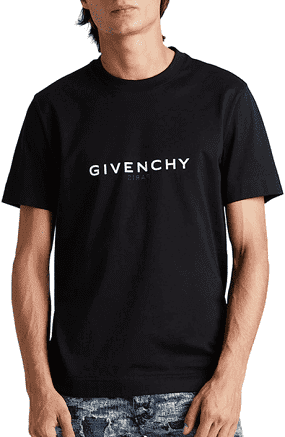 9. Comme Des Garcons Play X-Ray Heart Logo Graphic T
Why not flaunt Comme Des Garcon's iconic red heart smack dab in the middle of your chest? It's playful, cool, and stylish. Pair with lightwash denim and your favorite sneakers.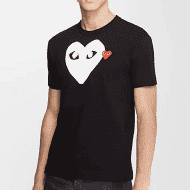 10. Jacquemus Le T-shirt Tennis
Since French designer Jacquemus came into the fashion scene back in 2009, he has been one to watch. His eponymous label has pushed the forefront of French fashion with his "deconstructed, surrealists" designs. What we love most about the brand is the designer's fearless approach to vibrant colors in his work, which was heavy on display in his recent Spring/Summer 2022 "Le Splash" fashion show. A design that stuck out to us was the bright tennis green t-shirt. It has a slightly calm design, with an orange tennis court on display in the center with a neon-yellow tennis ball at the bottom of the shirt below the Jacquemus logo.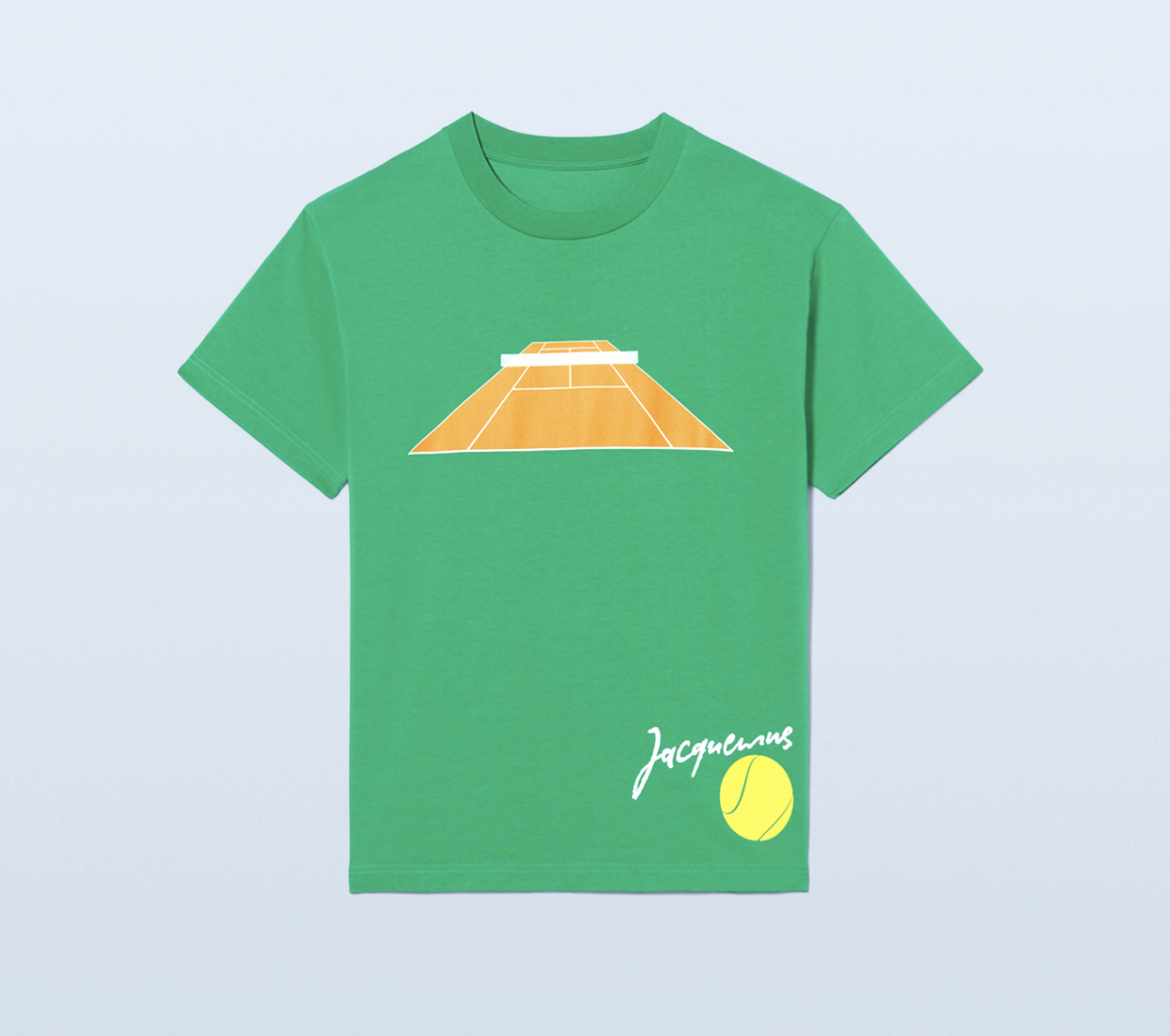 11. Fendi Light Blue Cotton T-shirt
You can never go wrong with rocking the Fendi prints on your body. This shirt is iconic just as much as it is stylish. The shirt is made of light-blue cotton with a terry fabric effect for added texture. It features Fendi's FF pattern and FF "Karligraphy" print all over the tee for a next-level design.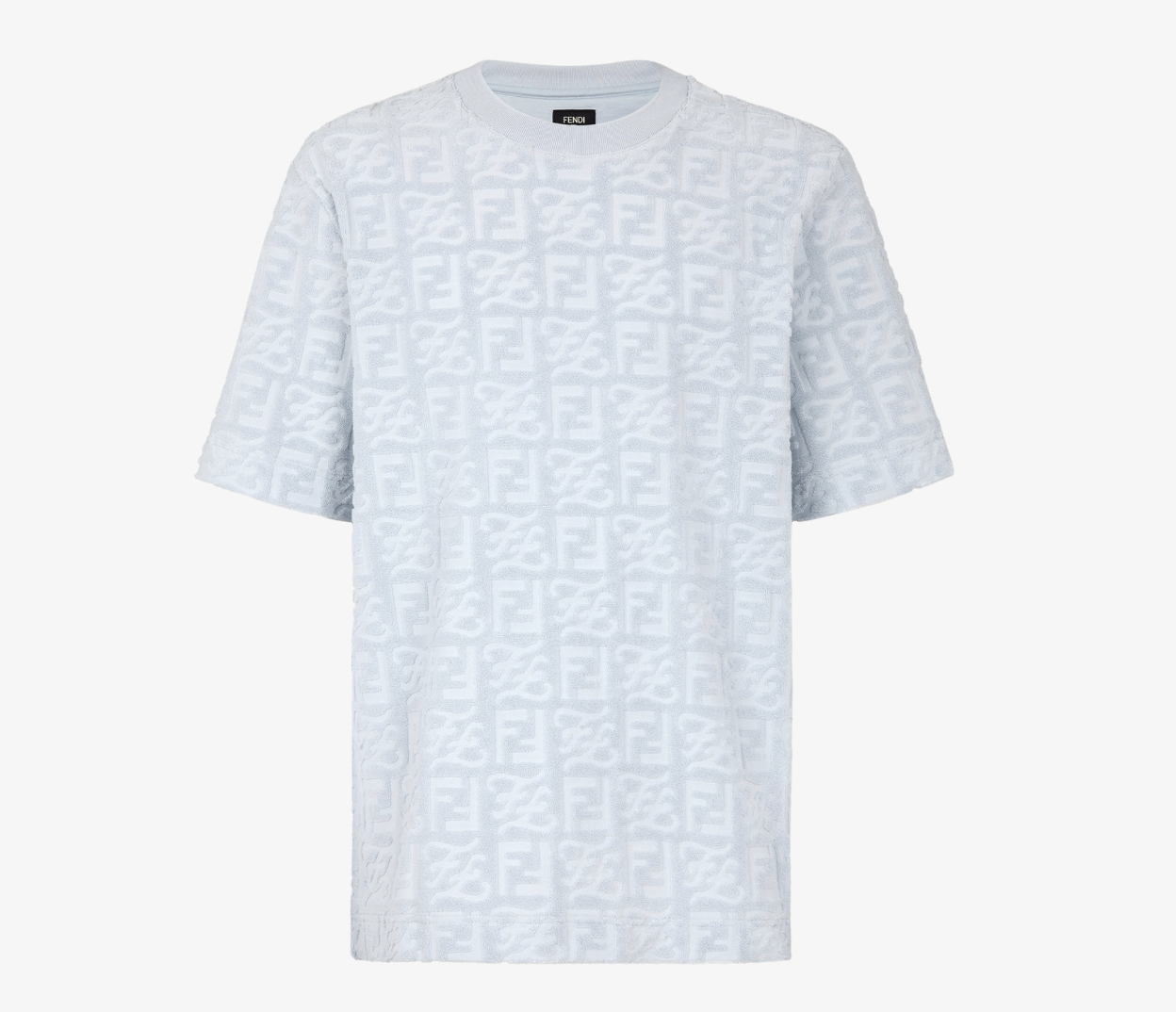 12. Casablanca Tennis Club Icon T-shirt
We love absolutely everything about this Casablanca designer t-shirt available in white. The crewneck t-shirt pairs a stylish tennis club graphic with the signature Casablanca logo. It's made from 100% organic cotton, meaning the shirt is sure to be comfortable as well as stylish. Announce to everyone that you have a sense of fun and style with these fun designer t-shirts for men. Unlike most designer t-shirts popular in 2022, this cotton tee isn't oversized or long, which will make it easy to style with your outfit of the day.
13.
Kenzo Boke Flower Crest on Pocket T-Shirt
We love a good pocket tee, and for our money, the best designer t-shirt of the year comes from Kenzo. The French fashion house just recently appointed Japanese fashion designer Nigo as its new creative director, and his first collection is centered around the Japanese flower, Boke. Talk about paying homage. This minimally designed t-shirt will pair perfectly with wide-leg khaki pants and low-top shoes for the perfect spring fit.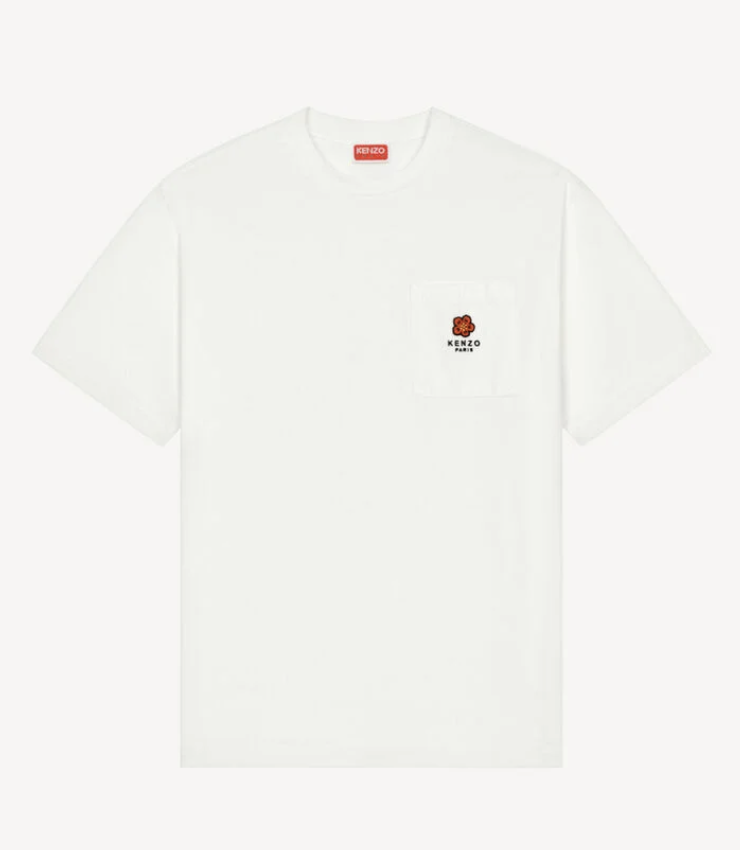 14. Valentino Jersey T-Shirt
Fashion designer and creative director of Valentino, Pierpaolo Piccioli, utilizes a pink hue constantly, effortlessly and modestly in his designs, and we can't get over them. So, of course, we had to follow suit and suggest a pink tee.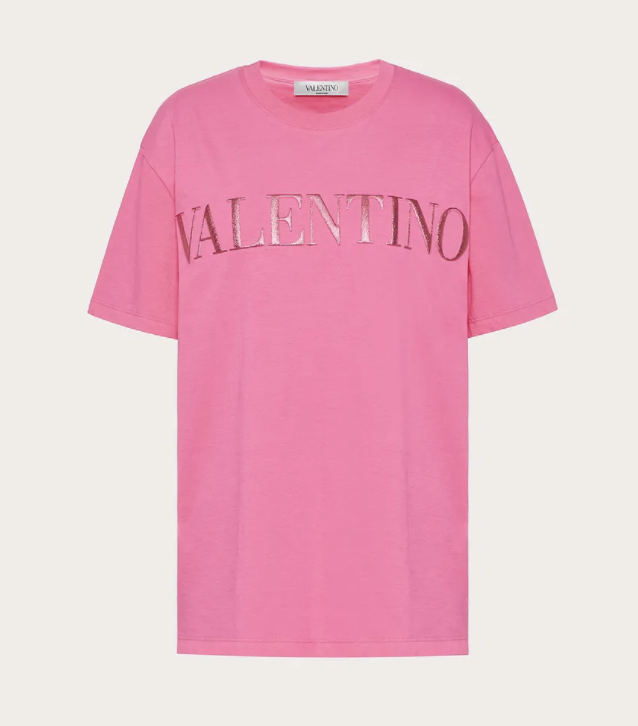 15. Rhude City Tee
Up your designer t-shirt collection with a graphic tee from Los Angeles-based brand Rhude. The brand was founded in 2015 by designer Rhuigi Villaseñor with a mission to create luxury fashion that would showcase LA aesthetics but with streetwear elements. While the brand is still fairly new to the game, Villaseñor's designs have garnered a massive following, including celebrities like A$AP Rocky, Jay-z and Lebron James. 
This off-white shirt is made of cotton with an oversized fit and features a graphic print with an embossed Rhude logo.